Daiki Tanaka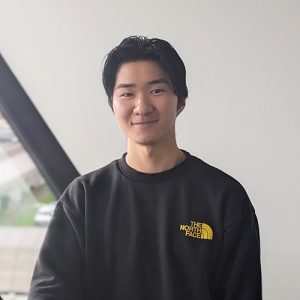 DAIKI TANAKA
Daiki Tanaka graduated from Washington State University (WSU) in 2023 with a bachelor's degree in Mechanical Engineering. During college Daiki was a member of the Aerospace Club which competed in the Spaceport America Cup, one of the largest college rocket competitions. He was on the airframe team and helped design a CAD 3D model of the 13-foot rocket that satisfied the aerodynamic requirements. The rocket was launched in New Mexico in June 2023 and flew to 8,800 feet altitude.
Daiki has been familiar with AeroTEC for a while! His father was an engineer at Mitsubishi and worked with AeroTEC for many years on the Mitsubishi SpaceJet program. During his time on the project, Daiki's father enjoyed collaborating with AeroTEC and praised AeroTEC's diverse culture and professional work. Since then, Daiki has wanted to have the same great experience as his father and work on an even more impressive project! Since starting with AeroTEC, Daiki has enjoyed the fast-paced work environment and the diversity of the work; getting to utilize a variety of skills and design approaches. It is a great environment for fresh-out-of-college engineers to learn real-world engineering.
Daiki will be doing four JEDI rotations over the course of the next year: Product Innovation Team (PIT), Test & Evaluation, Stress, and System Safety. During his first rotation with the Product Innovation Team, he found a new appreciation for CAD design. In the past, he leaned towards more hands-on work but after getting to see his parts from design all the way to manufactured, it has become one of his favorite things to do. But Daiki's passion for aircrafts does not end with aerospace engineering; he has been dreaming of the opportunity to fly in one of the test aircrafts. Because of the Test & Evaluation team's role in the newest AeroTEC project, Daiki recently traveled to AeroTEC's Flight Test Center in Moses Lake, WA and got the opportunity to fly in the test airplane that was fully equipped with the flight test instrumentation equipment.
Are you interested in being part of AeroTEC's JEDI Program? Contact Careers@nullAeroTEC.com or look at open JEDI positions HERE today!