AeroTEC Wins PNAA's Company of the Year Award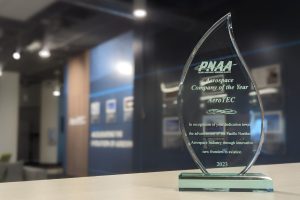 AeroTEC won PNAA's Aerospace Company of the Year Award for 2023. This award is presented to "The aerospace company located in the Pacific Northwest that has exhibited exceptional organizational and managerial characteristics while continually maintaining a strong competitive posture, thus raising the industry standard for the Pacific Northwest" (PNAA.net).
We would like to congratulate everyone who helped AeroTEC achieve this accomplishment!
Learn more on Northwest Aerospace News Magazine
AeroTEC.com
PNAA.net