AeroTEC to Showcase $1.58 Million Mobile Telemetry Lab at NBAA-BACE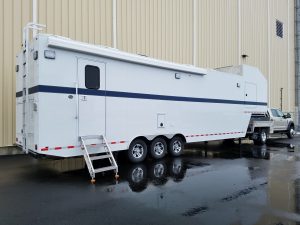 LAS VEGAS, October 9, 2017 — Exhibiting for the first time at the NBAA Business Aviation Convention and Exhibition (NBAA-BACE), AeroTEC is pulling out all the stops to showcase its robust test, engineering and certification capabilities to the global business aviation community. One highlight of the company's exhibits (C13225 and C13338) will be a 39-foot, $1.58 million mobile telemetry lab staffed by a team of engineering experts available to guide and answer visitor questions about the company's work and capabilities.
With locations in Seattle (engineering), and Moses Lake (flight test), Washington, the company has grown from 20 to 400 employees since 2015, largely due to its role in the Mitsubishi Regional Jet (MRJ) flight test and certification program, according to President Lee Human.
"Our charter is to help aerospace companies bring their products to market quickly," said Human. "From winglets and special mission platforms to new aircraft type certifications and UAVs, we have the bandwidth, talent, and scalable capabilities to customize and complete product development, test and certification work on time and on budget."
In addition to the mobile telemetry trailer, which enables AeroTEC to travel anywhere in North America for optimal flight test conditions, AeroTEC is building a second, 32,000 square-foot narrow-body hangar in Moses Lake. The new facility, which is slated to open next month, will complement the existing 68,000 square-foot wide-body facility.
At the same time, the company continues to enhance existing capabilities such as rapid prototyping and manufacturing, CNC machining, composites and special test equipment fabrication such as advanced wind tunnel models, artificial ice shapes, trailing cone systems, and load banks.
"Our business is vertically integrated so we have all the people, equipment, capabilities and facilities needed to quickly react to unexpected events and minimize or eliminate delays," Human added. "We tell people, 'if you've ever thought there has to be a better way to certify an aircraft, you're right.' Product development doesn't have to be slow or painful."
About AeroTEC
AeroTEC develops, tests and certifies new aircraft products using innovative and scalable development, test and certification techniques to help large and small aerospace companies everywhere bring their products to market quickly, easily and efficiently.