AeroTEC Expands Footprint in Moses Lake with Opening of New Hangar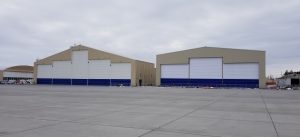 MOSES LAKE, October 30, 2017 — AeroTEC is celebrating the completion of a new 32,000 square foot hangar to complement its existing state-of-the-art flight test center at Grant Country International Airport in Moses Lake. The Seattle-based company, which established a presence in Moses Lake in 2013, has grown from 20 employees to over 400 in the past three years, largely due to its involvement in the Mitsubishi Regional Jet (MRJ) flight test and type certification program. With the completion of this new hangar, AeroTEC is sending a message.
"AeroTEC is ready to take on more testing in parallel with the MRJ program," AeroTEC President Lee Human said. "Our company is growing to match industry needs, and we continue to expand our test facilities to support additional aerospace development and flight test programs for years to come."
Human says Moses Lake provides an ideal location for year-round flight testing. The arid climate, low-traffic airspace and long runways make for optimal operations. And with the addition of this new hangar, which is large enough to house a pair of Boeing 737 Max's, Human believes AeroTEC is ready to draw more test business to the area.
"We work with aerospace companies all over the world," Human said, "and part of what attracts them to AeroTEC is our Moses Lake Flight Test Center. There are few companies that can offer the level of integrated capability that we can – and now we have the additional capacity needed take on more programs."
Human says this growth is not only exciting for AeroTEC, but for the town of Moses Lake as well.
"Our business is growing," Human said. "And with our growth, I think we will continue to see a significant, positive economic impact on the area."
AeroTEC will be hosting a celebration to commemorate the opening of the new hangar November 17th from 4 p.m. to 7 p.m. AeroTEC employees and invited guests, including local officials and members of the media, will be in attendance.
About AeroTEC
AeroTEC develops, tests and certifies new aircraft products using innovative and scalable development, test and certification techniques to help large and small aerospace companies everywhere bring their products to market quickly, easily and efficiently.